Our Team
Our Dental Family
One big reason our patients choose us is because we have a team of people who provide many different services under one roof, with one doctor that follows all phases of treatment and sees the whole picture from start to finish. Caring and personal dentistry is our passion!
We are consistently rated the #1 dental office in Charlotte by patient reviews. This distinction is a point of pride and responsibility for us. You have our word that we will work to continue to earn your trust and loyalty. We are grateful for your wonderful referrals of your friends and family and the confidence that those referrals imply
This dental team came together because we all have the same vision for the care and service that our patients want and deserve. It is our passion to continually provide you with a dental experience that far exceeds your expectations. It is our joy to serve you and we look forward to welcoming you to our beautiful office.
Ashley Hubbard, RDH – Patient Comfort Specialist, Licensed Periodontal Therapist
Ashley has been with Dr. Linger since she started her dental hygiene career over 7 years ago. It's easy to see why her patients adore her as much as we do! Ashley has such a fun personality and is so kind and caring. Ashley was born and raised in Pittsburgh, PA and is a huge Steelers fan. She's been married to her husband Walt for four years and has a beautiful 3 year boy named Collin. She has 2 dogs, Emma, a whippet, and Jax, a lab mix. She loves spending time with her family and friends. Football, Dogs and Babies… Ashley loves hearing about your faves too.
Carolyn Staples – Patient Concierge
Carolyn is your "go-to" person in the office. With over 10 years of dental experience, she will take care of all of the administrative details around your treatment. Patients tell us they just love Carolyn's always pleasant attitude and warm smile. Originally from Columbia, South Carolina, Carolyn has been in Charlotte since 2008. She has a son at the University of South Carolina. In her spare time she enjoys reading, traveling and running 5k races.
Lynne Banker, CDA – Patient Comfort Specialist, Dental Assistant
Lynne has been a dental assistant for over 20 years and is highly experienced in general dentistry and surgical procedures. Lynne has been Dr. Linger's main assistant since 1998. Patients love seeing Lynne's familiar, smiling face and respect her deep knowledge and skill. A native North Carolinian, Lynne has 2 dogs that she adores, Zeus and Oliver. She enjoys reading, walking and spending time with family and friends. Be sure to tell Lynne about your favorite trails when you're here.
Mary Ann Richardson – Patient Comfort Specialist, Dental Assistant
Mary Ann brings a passion for people, health and wellness. After years of working as a fitness trainer, she made a career change and has been working as a dental assistant for the last 7 years. She was born and raised outside of Pittsburgh, PA. She enjoys music, mountain biking, exercising and going to the beach. She loves meeting our patients and making them feel comfortable and welcome.
Sabrina Linger – Patient Concierge
Sabrina has always been a behind the scenes member of our team and is now so excited to be here as part of our wonderful office team, to work with our family of patients. Sabrina is a paralegal, holds a political science degree from UNCC and has enjoyed a successful career as an investment banker. With all her business and organizational skills, we are thrilled to have Sabrina here and we know you will be too. Sabrina and Dr. Linger have 2 daughters Kiera and Callie. In Sabrina's spare time she enjoys running marathons and all kinds of fun activities with her family.
Traci Stowers, RDH – Patient Comfort Specialist, Licensed Periodontal Therapist
Traci has been a dental hygienist since 2000 and has worked with Dr. Linger since 2007. She was born in Madison W.V., is married to Doug Stowers and has a teenage son, David. Traci's patients love her because she is so nice, open and straightforward; she makes her patients feel so comfortable while working with them. Another of our dog lovers, Traci has a lab named Casey and a Sheppard mix named Brutus. Traci and her family spend their free time enjoying her son's games on the football and baseball fields. She also enjoys reading. She'd love you to share your favorite titles the next time you're here.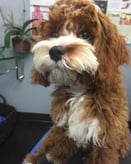 Sadie Therapy Dog – Patient Comfort Specialist
Sadie is a Cockapoo with a warm, loving and calm personality. She loves to make your visit comfortable. She will even sit on your lap if you need her to. Our patients with anxiety say that having Sadie with them helps make their visit very comfortable.
You can follow Sadie on Twitter @TherapydogSadie or Facebook.