Next, an impression of your teeth is made for our ceramic artist to use for the custom creation of your porcelain veneers. Provisional Veneers are placed from your smile transformation template so you can see how your new smile will look immediately.
Your next visit is to try in your beautiful new veneers. Once you approve them, they are permanently bonded to your teeth. A follow-up appointment with Dr. Linger may be scheduled.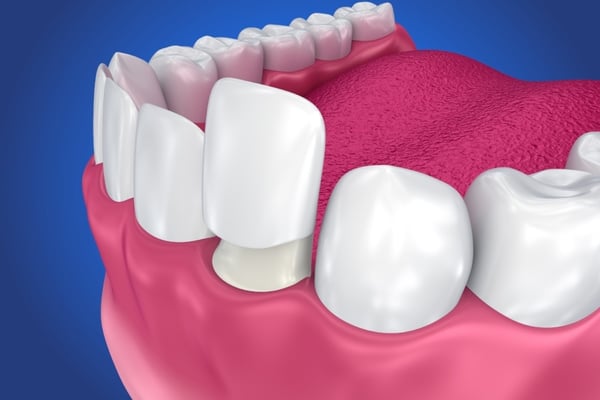 Benefits of Dental Veneers
If you are unhappy with the appearance of your smile, porcelain veneers may be the right treatment choice for you. Porcelain veneers can help you achieve a brighter and more symmetrical smile, free of stains, gaps, chips, and other flaws. The advantages of porcelain veneers are plentiful.
Highly Durable: While veneers are thin, they are incredibly strong and durable when bonded to healthy tooth surfaces.
Stain-Resistant: Porcelain veneers feature shiny, sealed surfaces that are highly resistant to stains caused by liquids, foods, and chemicals.
Minimal Preparation: Using the Microscope, Dr. Linger's Veneer Preparation is quick and conservative. Only a small amount of tooth enamel (if any) must be removed.
Natural Looking: To the naked eye, porcelain veneers look much like your natural teeth. This is primarily due to the porcelain's translucent quality.
Complimentary Cosmetic Consultation
Not sure if you're a good candidate for porcelain veneers? Contact Dr. Linger's office today to schedule a Free Consultation.
Your initial consultation and exam is free. It consists of a comprehensive exam that includes everything from looking at your teeth and gums, to your bite and the way your whole mouth looks and functions as a whole. Before we plan your dental veneers we want to know everything about the health and aesthetics of your smile, and, most importantly, what you want to achieve so that we can help you get there.
(NOTE: There may be a charge if x-rays are necessary. We encourage our patients to bring x-rays to their first visit if you have had them taken recently.)