Do you have misaligned teeth that make you feel self-conscious or unhappy?
Many of our adult patients assume that the only way to have a straighter smile is with traditional braces, which use attractive metal brackets and wires. However, that's not the case anymore.
Many adults spend their entire lives covering their mouths when they laugh, smile or talk. They feel stuck because they do not want to wear metal braces for years or they are concerned that other corrective procedures could be too invasive or too expensive. Now, there is an effective, safe and affordable cosmetic solution that fits your lifestyle offered by Dr. Linger.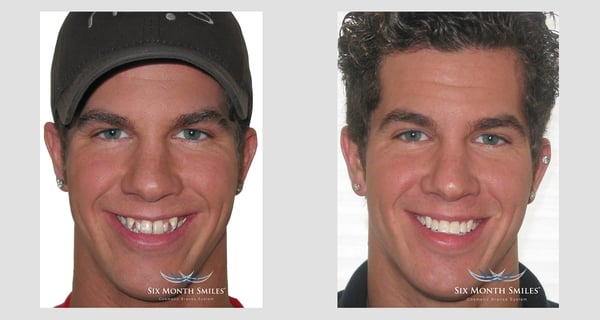 The revolutionary combination of proven orthodontic techniques and modern materials– Six Month Smiles® uses specialized clear braces to gently straighten and align teeth in an average period of just six months.
With a solution like Six Month Smiles from Dr. William Linger, DDS, MAGD, adult patients (and kids) who want to straighten their misaligned teeth can finally enjoy faster and more discreet orthodontic care in Charlotte, NC.
The Six Month Smiles Difference
What sets Six Month Smiles apart from other orthodontic solutions? The biggest difference between Six Month Smiles and traditional braces is how long it takes to complete treatment. Straightening teeth with traditional braces can take anywhere from 12-18 months to complete. With Six Month Smiles, it really is possible to achieve the results you're looking for in only about 6-8 months.
This makes them a great option for adult patients who have a major event coming up, like a wedding, a career change, a family reunion, or anything else.
In just half a year's time, Dr. Linger's Charlotte-area patients can get their important orthodontic care out of the way so that they can move forward with a beautiful, dazzling smile that will improve confidence and even oral health.
The second difference is that Six Month Smiles uses clear brackets and tooth-colored wires. That's something that will have a special appeal to image-conscious teens and adults who have avoided care because of fears over how traditional braces look.
With Six Month Smiles, you don't have to worry about attracting attention to your treatment. They blend in more naturally with your teeth, making them virtually undetectable and allowing you to follow your normal schedule with confidence.