Why do Patients choose Dr. Linger? CLICK HERE to learn more.
Teeth in One Day! Including the revolutionary SMILE Technique
Dr. Linger is one of the few dentists in the world performing the SMILE Technique for Same Day Tooth replacement, along with All-on-4 Teeth in one day and other techniques that Dr. Linger has perfected in 23 years of dental implant practice.
All-On-Four (All on 4 ) Dental Implants in Charlotte NC
You can receive a full set of upper and or lower teeth in one visit. Dr. Linger places four implants using the surgical microscope and Computer Navigated and a complete set of teeth are attached the same day. Using the 3D Cone Beam technology and Dr. Linger's Method ™ of Dental Implant Microsurgery, we often avoid the need for bone grafting.
One Doctor. One Office. One Fee
We are one of the few offices that offer both Dental Implant surgery and restoration in ONE location by ONE doctor. Dental implants in Charlotte is one of our focal services where we cater to our patients comfort and happiness. To learn more about our dental implant services, contact our office today.
Affordable Dental Implants - Financing & Payment Options
With 0% for 12 months financing or low interest-low monthly payment options, our team can find the program to get you back to oral health!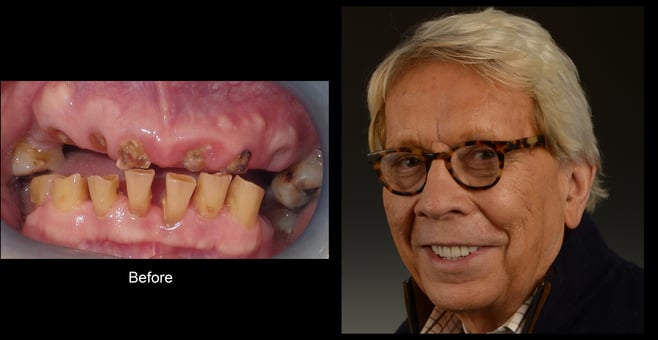 Check out More Before & After Pictures from our Smile Makeover Page.
FREE Consultation
We offer the latest in dental implant technology from Cone Beam 3D imaging, Implant Microsurgery and Computer Navigated Dental Implant surgery. Schedule your FREE consultation to learn how Dr. Linger's Method of Modern Dentistry and the latest technological advancements can renew your smile and restore your confidence.