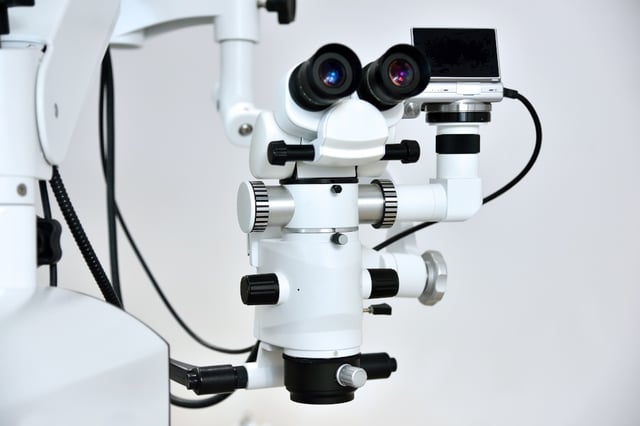 The truth is that many people are scared of the dentist. Even though they know that they need good dental care, they often wait until the pain is unbearable to go. Their teeth may be falling out and they still are holding off on going to the dentist.
However, there is an easier way. Lucky for you, we offer microscope dentistry. There are many benefits of using this state-of-the-art procedure and here are some of them.
Increased magnification. Using a microscope is even better than your dentist using their loupes. They can see up to sixteen times magnification to ensure that they can see exactly what they need to, to do the right job.
More conservative treatment. By using a microscope, you might be able to have a more conservative treatment. We can treat a smaller area with more precision, which makes the whole process go much more smoother.
Smaller incisions. By using a microscope, your dentist will be able to use smaller incisions.
Less pain and discomfort. Since the incisions are smaller, your discomfort and pain will be much less than with traditional treatments.
Less swelling. Because there is less trauma to the area due to smaller incisions, you will have less swelling.
Faster healing times. You will have much faster healing times. There are even times when you might be able to go right back to work instead of taking a few days off for your mouth to heal.
Precise placement and alignment. Since we mostly use our dental microscope with our dental implants, we are able to plant them in the right location with the right alignment to give you the best chance at natural feeling teeth.
Easier on your other teeth. By using a microscope, we are able to be more precise and exact and avoid contact with gums or other teeth while performing surgery.
As well as the soft tissue in your mouth. Dental surgery is also hard on the soft tissue in your mouth. By making smaller incisions with better precision, we are less likely to hurt the delicate tissue in your mouth.
Increased documentation. Since many microscopes are paired with monitors, cameras, or both, we are able to show you exactly what we find, as well as the procedure that we did. This can a great way to communicate between you and your dentist. You can also see exactly what we are doing or have done to your mouth.
One of the main procedures that we offer for microscopic dentistry is for our dental implants. If you have lost one or more teeth, we can help. We would be happy to talk to you about dental implants using a microscope.
Once you get them, you will be glad that you did. With minimal swelling and pain, you can have new teeth that are just as strong as your other teeth. You will be able to eat whatever you want, without worrying about your teeth.
By using a microscope with your dental implants, you are going to have smaller incisions with less trauma to your entire mouth. You will also have less healing time which means that you can have your new teeth sooner than you ever imagined. Just think about all of the foods that you want to eat but you can't!
Don't hesitate to contact us if you know that you need dental care. We would be happy to schedule a free consultation to determine how we can help to improve your smile. We are proud of our technique which gives you the best results, with the least amount of pain.