Are Dental Fears Keeping You From Having a Healthy Mouth?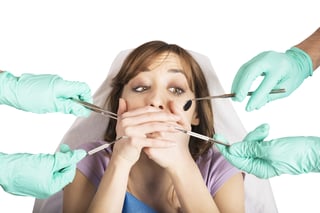 Are you one of the millions of people who have put off going to the dentist because of the anxiety and fear associated with some types of dental care?
Has it been 5, 10, 15, even 20 years since you last had any dental treatment? Would you appreciate being completely sedated, have all your dental needs taken care of in perhaps one appointment…and afterward remember very little about your visit?
If you answered yes to any of those questions, then the office of Dr. William Linger can help.Dr. Linger has been one of the most trusted names in dental sedation, safely and effectively treating patients in Charlotte, NC since the 1990's.
Using Sedation to Help You Relax
Sedation dentistry uses safe medications to help you relax during your dental procedure. Sedation dentistry can help remove the fear and anxiety that some people have going to see the dentist. "We are in the people business," says Dr. Linger. "Our goal is to keep our patients comfortable, calm their fears, and help them to have the best experience possible while we take care of their teeth and any issues they may have. This is where our knowledge and use of sedation dentistry sets us apart."
Sedation dentistry is sometimes called "sleep dentistry." While most patients are never given a general anesthesia, our use of sedation medicines helps patients relax to the point that many actually do gently fall asleep…almost a napping state. Sedation dentistry does not put you to sleep. Patients are fully aware of what is happening and communication with Dr. Linger and our staff is always maintained.
Our patients enjoy sedation dentistry because we offer several levels of this safe practice. Minimal sedation allows patients to be relaxed and totally awake and aware of what is happening. Moderate sedation allows the patient to gently fall asleep and not recall much of what has happened. Deep sedation allows our patients to be asleep and easily awakened. And general anesthesia allows you to be totally asleep and unconscious.
Talk with our staff and Dr. Linger about your choices of sedation available. Sedation dentistry can help you relax and make all of our dental surgery procedures feel not as uncomfortable as you may have imagined!

Who Benefits From Sedation Dentistry?
Anyone who...
wants to be treated in a relaxed, caring and

non-judgemental environment.

has put off dental care for years because of dental anxiety.

wants all of their dental care completed in as few as one or two visits.

has fears and anxiety about

dental

treatment of any kind.