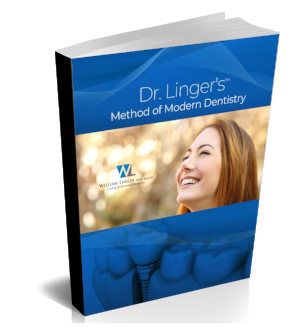 No matter what kind of healthcare you're getting, it's common to feel a certain sense of foreboding from medical establishments. Too often they can feel impersonal or even superficial. Given that oral healthcare is such a vital aspect of life, it's a shame that this kind of dispassionate temperament still exists among dental practitioners. With Dr. Linger and his team, we believe our patients should feel genuinely cared for and appreciated when they come to visit. We believe insurance concerns, promotions, and other matters should all come second to what's really important; you.
Our Patient-Focused Philosophy
At the dental office of Dr. Linger, our highest priority is to offer all the care you need in the most comfortable environment possible. We strive to maintain a personal relationship with our patients by understanding what's important to you and what's in your best interests. After all, when it comes to your well-being, we see no reason not to take the matter as seriously and as personally as you do.
When you first come into the office, you'll notice the relaxed and comfortable atmosphere we create. Our friendly staff always greet you when you arrive, inviting you to feel welcome while you wait for your treatment. Whether you're here for an immediate oral health concern, a regular check-up, or any other reason to give yourself a healthier and better smile, we're happy to assist you with whatever concern you may have.
In addition to our patient-friendly personality, our facility offers the most state-of-the-art technology alongside some of the most highly-trained professionals in the industry.
This allows us to offer a vast range of dental services from general dentistry, cosmetic dentistry, all the way to the most advanced dental procedures. Rather than scheduling multiple appointments with several different offices, we like to offer everything you need in one place at one time.
Not only is this convenient, but it also allows our patients to get the care they need exclusively from a team focused on their well-being.
Why Dr. Linger?
Aside from being one of the most highly trained and experienced dentists in the industry, Dr. Linger does his best to provide a personal touch with all his patients to let them know they're being genuinely cared for. He and his entire team are easy to talk to, attentive listeners, and eager to get to know patients on a personal level before starting treatment.
You'll be able to tell how excited and passionate he is to practice dentistry and provide care for those in need. Your feelings and comfort-ability are addressed every step of the way, making sure you're always relaxed and at ease with the proceedings. The doctor always goes to great lengths to communicate and explain procedures before they happen, making them easy to understand as complex as they may be.
As one of the very few dentists to earn the level of Master with the Academy of General Dentistry, Dr. Linger is exceptionally qualified to handle anything from general dentistry to more advanced cosmetic and surgical procedures.
He's both a detail oriented and artistic dentist, offering high quality results and aesthetic talent to give you a smile both healthy and beautiful. It's this combination of exceptional expertise and personable attitude that's made our office one of the most trusted in Charlotte for over 20 years.
With Dr. Linger DDS, MAGD, your trust, comfort, and well-being are always the number one priority every time you come to see us. Visit us here to learn more about our services and see what a difference having a personal and caring dentist can have on your oral health experience.