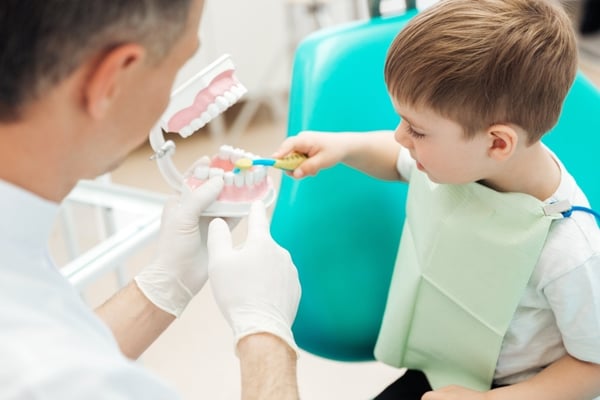 Choosing the right medical practitioners for your children is a serious and important job. When it comes to finding the right dentist for kids, we know that you want only the best for your little one. Do you think your child might be showing signs of teething? Has their first baby tooth emerged? Have they reached 12 months of age?
If your answers to any of these is yes—or you just want to get a head start on the process —then here's how to get started choosing a dentist.
Signs your Child Needs to See a Dentist
Before you even notice those cute new teeth growing in your infant's mouth, you might notice the signs of teething. Teething can be uncomfortable for babies, and frustrating for parents. Though you might think you have a while before you need to start worrying about teething, the truth is that some infants can start as early as three months old. Here are some signs your child is beginning this phase of their dental development:
Increased drooling
Desire to chew on things
Irritability
Disrupted sleep
Swollen or tender gums
It's important to bring your child in to see a dentist when you start noticing the signs of teething— and especially when you start to see the teeth emerge from the gums.
Although it's true that these baby teeth are eventually going to fall out to make way for your child's permanent adult teeth, it's still harmful if baby teeth decay. When they decay, they may fall out too early, leaving gaps which can cause permanent teeth to crowd together and fill in gaps left by remaining baby teeth.
Tips for Parents:
Wipe your baby's gums daily with a soft cloth even before they have their first teeth.
When they get their first tooth, brush it daily with a soft infant-sized toothbrush and some fluoridated toothpaste.
Bring your baby in to see a dentist as soon as possible to get them started on a lifetime of healthy teeth!
How to Choose Your Dentist
Choosing your infant's first dentist is a big deal. You want to make sure that the practitioner is experienced and competent, and will start your child off with a positive first impression of going to the dentist. Here's what you want to look for:
Kind, Calm, and Comfortable Demeanor
Your little one deserves the absolute best in care. When you go to make an appointment with a dentist, ask them what they do to make the visit special and tailored towards your child. The atmosphere should feel safe, fun, and comfortable.
In addition to having lots of experience with kids, you need to make sure that your dentist projects kindness towards your kids—so they grow up to associate the dentist with positive emotions instead of anxiety.
When it comes to your kids' oral health, it's never too early to check for some common issues. A good dentist will be equipped to handle the following:
Decay. Tooth decay in baby teeth is a serious issue, and can easily sneak up on kids who are bottle-fed or breastfed. Decaying baby teeth not only can fall out too soon, but can spread infections to permanent teeth and cause pain and abscesses in children. A good dentist will be able to identify the warning signs of decay and help you keep your child's teeth healthy and strong.
Gum disease. Surprisingly, around 40% of children between the ages of two and three have inflamed gums. Partner with a dentist who's experienced in detecting the warning signs of early gum disease.
Preventative Care. There's nothing like preventative care when it comes to dentistry. Your dentist should be able to confront possible issues, such as thumb-sucking, before they become problems. They should also be able to help you and your child establish a dental hygiene routine.
Responsive to your Concerns
A good dentist doesn't only know how to deal with teething issues, tooth decay, preventative care, and everything else that comes along with growing teeth—they need to be able to respond and communicate with you as a parent or guardian.
Don't be afraid to ask questions. Do they offer the latest, cutting-edge technology? Do they maintain a clean and sterile environment? This is your child's health, and you're entitled to get the best information possible.
If you're looking for a dentist for your infant in Charlotte, you want to make sure to choose the absolute best. Dr. William Linger has over 20 years of experience working with children. His dental office is child-friendly, even offering visits with Sadie the Therapy Dog to help keep kids at ease!
If you'd like to get in touch about why Dr. Linger is the best choice for family dentistry in Charlotte, please contact us today. Our next Kids' Day is February 20th, 2019.