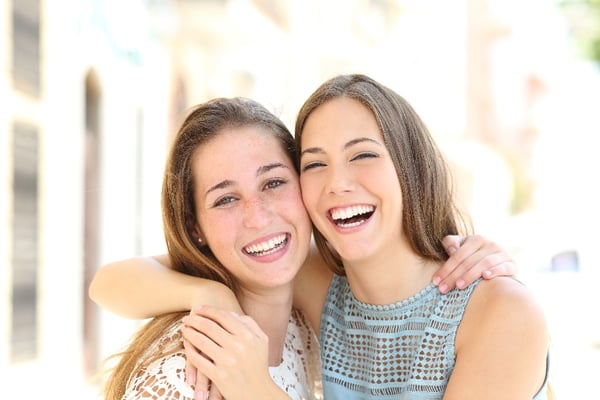 The benefits of a clear and confident smile are evident to almost anyone. Most of us, if given the choice, would prefer to have a smile that looks nice and makes us feel comfortable. While proper dental hygiene is always important in maintaining a healthy and beautiful smile, a little help from the dentist can also go a long way.
Cosmetic dentistry is the specific form of dentistry related to making teeth look their best and giving you a smile you'll be happier with. Whether you're dealing with stains, chips, gaps, or other imperfections, there are a number of procedures that can help provide you with a more beautiful and natural looking smile.
Before:
Over the course of our lives, there are a number of issues that can affect the appearance of our teeth. Plaque and gingivitis can leave them yellowed and stained, as can many of the things we ingest like coffee or cigarettes.
Sugary foods and drinks can wear away the edges of teeth and leave them weaker than before. Even with regular oral care, the accumulation of all these things can still affect the look of teeth over time. This doesn't make them useless or completely unhealthy, but there's a good chance they won't ever look the same without any help.
In other cases, damaged teeth may be the result of an accident or injury. Some situations may lead to teeth that have been chipped, broken, and possibly even removed. Not only is this bad for looks, but it can also be unhealthy for the mouth overall. Gaps and injured teeth are impossible to repair without cosmetic dentistry to assist.
There may also be cases in which teeth have grown incorrectly or out of place. If not properly addressed in adolescence, problems like this can lead to permanently crooked or misshapen teeth. Taking the proper precautions while young is usually the best way to avoid these issues, but they can still be helped later on with cosmetic procedures.
After:
There are a handful of procedures and services available to improve the look of your smile. These can range from simple whitening all the way to a complete set of cosmetic dentures. The first step in any procedure is the consultation, during which you'll be able to discuss your concerns and the available options with your dentist. Once you've selected the best procedure to suit your needs, you'll be on your way towards a better-looking smile to show off with confidence.
Procedures like teeth whitening, veneers, implants, and others are quite common and can be done in a minimally invasive way with modern technology. Not only can these procedures restore the appearance of clean white teeth, but they can also be helpful in improving gum health and removing tooth decay.
Regular teeth whitening and some implants can be done with as little as a single visit to the dentist. Other options like veneers may require additional time to craft them to your needs, but can generally be performed with little to no serious surgery. The result should be a set of teeth that look and feel natural while looking better than before.
Modern technology has vastly improved the scope of cosmetic dentistry thanks to procedures like laser surgery, invisible braces, and other advanced techniques. This allows us to quickly and effectively remove small stains, straighten teeth or tissue, and otherwise shape the appearance of your mouth without intense and uncomfortable surgeries.
Not only does this make the experience more comfortable, but it allows almost anyone to get the smile they want easier than ever before.
Cosmetic Dentistry In Charlotte N.C.
At the dental office of Dr. Linger DDS, MAGD, we offer one of the largest ranges of cosmetic dental procedures anywhere. Dr. Linger himself is a skilled and highly trained expert in many forms of cosmetic dentistry that are rarely performed all together in any one office. Visit us here to learn more and discover how we can help you achieve the smile of your dreams.