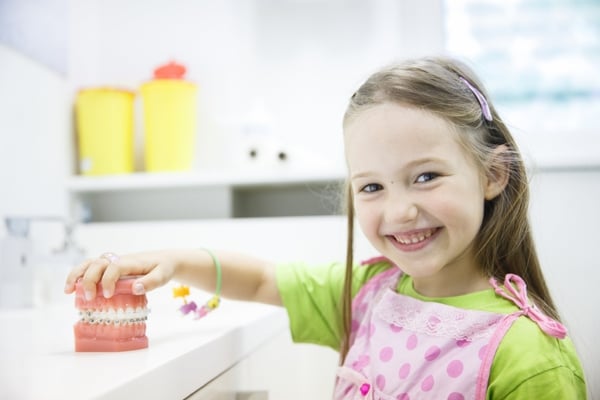 More and more adults are realizing that it's never to late to have a straighter smile. Although many adults grimace when they think of using traditional metal braces to straighten their teeth, luckily there are several options to choose form that can discreetly improve your smile.
Cosmetic orthodontics is a type of dental treatment that can help realign your teeth without using bothersome metal and wires. It's more aesthetically pleasing and can allow you to experience some of the major health benefits associated with having straight teeth.
The Health Benefits of Having Straight Teeth
Did you know there are health benefits associated with having straight teeth? If you've had any doubt about pursuing cosmetic orthodontics, consider this - people with straighter teeth tend to be healthier than people with uneven or misaligned teeth. This is because it's easier to clean teeth that are straight verses crooked or crowded teeth.
Teeth with gaps in it are also more likely to have particles of food get stuck in between. If you don't floss and remove the food, it can eventually cause more bacteria to form and increase your chances of developing gum disease or periodontal disease. Severe cases of gum disease can lead to tooth loss, swollen gums, bleeding gums and other negative side effects.
Your chances of developing gum disease is lower when you have straight teeth. It can also make it easier for you to chew and digest food when your teeth are properly aligned. Patients with crooked or misaligned teeth may experience headaches and other general wear and tear on their body.
Straightening your teeth can prevent you from developing serious dental and health problems in the future. Severe dental problems can impact your jaw, gum tissue, ability to chew and other factors that will affect your daily life.
Ultimately, straight teeth means you're more likely to have better oral health than someone with crooked teeth. A straighter smile can also give you more confidence in yourself. This alone can help your wellbeing and improve your quality of life.
Our Cosmetic Orthodontic Treatment Options
Invisalign
Invisalign invisible braces is an effective cosmetic orthodontic treatment that uses a series of clear, custom-made aligners to straighten your teeth over time. There are no metal brackets or wires, all you have to do is put a new set of aligners in your mouth every two weeks until your treatment is complete.
Six Month Smiles
Dr. Linger also provides the Six Month Smiles® treatment option to patients who want a fast and effective solution. The program uses clear braces to gently straighten and move your teeth into alignment within six months.
Schedule A Consultation with The Dental Practice of William Linger DDS, MAGD
Want to learn more about our dental services? Please call us at 704-364-2510 or contact us online. Our full-service dental office has helped many Charlotte, North Carolina patients get their dream smile over the past 20 years. We offer a range of cosmetic orthodontics treatment options like Six Month Smiles and Invisalign.
William Linger, DDS, MAGD specializes in comprehensive dentistry for the entire family, including cosmetic dentistry, reconstructive dentistry, general dentistry and sedation dentistry.
Dr. Linger graduated from the school of dentistry from the West Virginia University and later received his master degree from the Academy of General Dentistry (fewer than 1% of dentists have achieved this special designation). He uses his advanced education and decades of experience to perform a range of dentistry procedures.
We're proud to be one of the most caring and trusted dental offices in the area. We promise we'll try and make your stay as comfortable and soothing as possible. Come visit our state-of-the-art office for your next consultation!