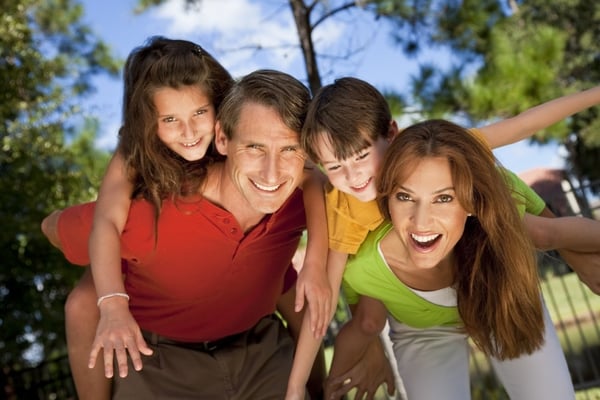 Do you or someone in your family suffer from poor self-esteem because your smile isn't attractive anymore, so you've stopped smiling? If so, consider how cosmetic dentistry can help give you back your smile. Cosmetic dentistry can benefit people from all age brackets.
Here are some of the common family cosmetic dental treatments for children, working adults and senior citizens, along with a few considerations and warnings.
How Cosmetic Dentistry Differs from Restorative Dentistry
While restorative dentistry is mostly focused on the health and functionality of a patient's mouth, cosmetic dentistry is done for enhancing the appearance of the mouth.
Its main purpose is for creating better dental aesthetics by redefining and reshaping a tooth's size, shape and position. Cosmetic dentistry also involves improving the color and alignment of teeth, which gives you a more attractive, overall smile.
Cosmetic Dental Treatments for Children
Although cosmetic dentistry is usually linked with adults, children may also need these treatments. In most cases, cosmetic dental treatments are minimally invasive. When dentists perform cosmetic procedures on kids, they consider the growth of their young patients while still improving their smiles. Because children continue to grow, many adult cosmetic procedures aren't suited for them.
Braces are a common cosmetic dental treatment for children. Besides improving a child's appearance and self-esteem, braces lower the odds of a child developing gum disease and decay problems later on.
Also, straightening teeth can make it easier for children to clean their teeth. What's more, braces can help to correct bite problems and prevent tooth extractions.
Another cosmetic procedure for kids is known as a dental flipper. This treatment is for when children lose teeth because of tooth decay or trauma as implant implants cannot be done on kids younger than 17 or 18. It involves a dentist creating a flipper, which is a removable appliance that contains an artificial tooth.
In addition with helping children feel more confident about their smile, this dental appliance can improve speech when at least one tooth is missing.
Dental bonding is the most common cosmetic procedure for repairing a child's chipped or fractured teeth, which is usually caused by trauma. This treatment involves using crowns, sealants, veneers and other types of adhesive materials. Consider that it's not only for children but for people of all ages.
Cosmetic Dentistry for Working Adults
Cosmetic dentistry is especially trendy with young and middle-aged adults who are still working and aren't yet senior citizens. This is because people in these age brackets want to have a younger looking appearance.
In fact, the age group that inquires the most about cosmetic treatments is the one for ages 31 to 40 years of age. This age bracket is followed by middle-aged adults, ranging in age from 41 to 50 years old.
Professional tooth whitening, which is also known as bleaching, is the cosmetic service that's requested the most. This cosmetic dental treatment bleaches teeth, so they look lighter. As a result, people can appear younger.
Crowns and bridges are other popular cosmetic procedures common among young and middle-aged adults. Besides being used for preventative care, these dental procedures are considered to be cosmetic treatments since they improve a person's appearance.
Cosmetic Dental Procedures for Older Adults
As you age, it's more likely you'll face major dental problems because your teeth have more wear and tear. In fact, about 75 percent of Americans, ages 60 and older, don't have all of their original teeth.
Common cosmetic dental problems in senior citizens include those, such as severe gum disease and losing your natural teeth. Even worse, poor oral health increases your risk for other health problems, such as diabetes and heart disease.
One of most common cosmetic dental problems affecting older people is severe tooth decay and missing teeth. Dentures and bridges are especially common among seniors. Other dental restorations for older Americans include fillings, dental crowns, onlays and inlays.
Considerations and Warnings
The earlier children see a dentist, the more likely they can prevent dental problems.
Children should wait until their permanent teeth erupt before wearing braces.
How long a professional tooth whitening treatment lasts depends on the person. But it most cases, it's good for up to three years, provided you don't smoke or drink tea, red wine or coffee, which causes staining.
As many as 92 percent of American adults, ages 20 to 64, have dealt with dental cavities.
A dentist can do both cosmetic and restorative procedures in the same mouth.
According to the American Academy of Cosmetic Dentistry, smiling can increase your lifespan by seven years.
If you need top quality dental care, visit family dentist Dr. William Linger. Our full-service Charlotte, North Carolina dental practice offers general, cosmetic and restorative services in a comfortable and friendly environment. Please contact us and set up an appointment.