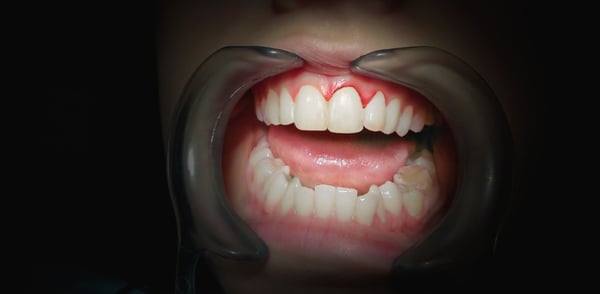 Do you feel self-conscious about your smile because of a receding gum line? Receding gums are a condition where your gums are further away from the tooth surface and expose the root of your teeth. Many people with receding gums quietly suffer because they don't know they can fix their dental problem.
One popular solution is the innovative Chao Pinhole Surgical Technique ™. This state of the art procedure can help reconstruct your gums and give you a healthier smile in a short period of time. Below you can find several reasons for why you should consider the Chao Pinhole Surgical Technique ™ to treat your gums.
Why You Should Care About Receding Gums
Although some patients with receding gums may want to seek treatment just for primarily cosmetic reasons, it's important that you understand that it can also damage your oral health if left untreated. Receding gums is a common sign of periodontal or gum disease. The California Dental Association (CDA) estimates that 75% or three out of every four adults have some type of periodontal disease like receding gums.
Receding gums can increase your chances of tooth loss and decay since the roots of your teeth are always exposed. People with receding gums are more likely to experience tooth sensitivity to hot and cold temperatures. You may also experience pain along your gum line and bleed whenever you brush or floss your teeth.
How You Can Benefit from the Chao Pinhole Surgical Technique ™
There are many advantages to the Chao Pinhole Surgical Technique ™. The procedure is considered minimally invasive because the procedure doesn't require the dentist to cut into your gums. There is also a relatively quick recovery time. Most of our patients also do not report any pain or discomfort after the procedure.
Patients prefer the Chao Pinhole Surgical Technique ™ over traditional gum grafting surgery because the latter is invasive. Dentists can also perform the procedure in a shorter amount of time than gum grafting surgery and fix more than one teeth at once. You can learn more specific information about how Dr. Linger performs the Chao Pinhole Surgical Technique™ treatment here.
Why You Should Choose Dr. Linger
Your smile deserves the best. That's why you should choose Dr. William Linger to perform your Chao Pinhole Gum Rejuvenation™ procedure. Dr. Linger is one of the select few dentists in the world who was personally trained and licensed by Dr. John Chao, the dentist who invented and patented the procedure.
Dr. Linger is also one of the few dentists who received advanced dental education from the Master of the Academy of General Dentistry. He has over 20 years of experience performing gum grafting microsurgery so you can be confident that you'll be in good hands.
Schedule a Consultation with William Linger, DDS, MAGD
Please contact us to schedule a consultation today if you'd like to learn more about Chao Pinhole Gum Rejuvenation™. We'd love to speak with you and explain how this innovative procedure can renew your smile. During the consultation he will ask more about your dental history and smile goals before developing a custom treatment plan just for you.
Dr. Linger is a caring and highly experienced dentist located in Charlotte, North Carolina. We are a full-service concierge dental practice that specializes in reconstructive dentistry, general dentistry, cosmetic dentistry and sedation dentistry.
If you are interested in the Chao Pinhole Gum Rejuvenation™ procedure but need financial assistance, please let us know. We have several financial assistance plans available so that you can afford to get the dental treatment you need. Regardless of your financial situation, we can help!