It is common knowledge that people go to the dentist for general dental issues such as teeth fillings or dental cleanings, but for those patients who are unhappy with the overall appearance of their teeth and are looking for a complete smile makeover, cosmetic dentistry is a viable option. One form of cosmetic dentistry for patients who are looking for that "perfect Hollywood smile" is porcelain veneers.
Definition of Porcelain Veneers
What are porcelain veneers?
Porcelain veneers are defined as a form of cosmetic dentistry in which custom-made thin pieces of porcelain material are bonded to the teeth to create the appearance of perfectly-aligned white teeth.
How Porcelain Veneers are Placed
At William Dinger, DDS, we make sure patients are actively involved in their smile transformation, and offer a comfortable environment so that patients are able to express their desires in every step of the process.
Before the porcelain veneers are bonded to your teeth, we will take a photograph of your smile and digitally impose a new smile preview showing what your teeth will look like after the procedure. Once we have your approval, we will create a template based on the preview and a mold of your mouth.
At your follow-up appointment, we will perform minimally invasive preparation of the enamel of your teeth for the procedure using a a microscope and Dr. Linger's Method™.
Next, you will be able to see how your new smile will look, as our ceramic artist will create a custom porcelain creation using your teeth impression and your smile template.
You will be able to try the new smile on, and once you approve your new look, the porcelain veneers will be permanently bonded to your teeth, creating a beautiful new smile.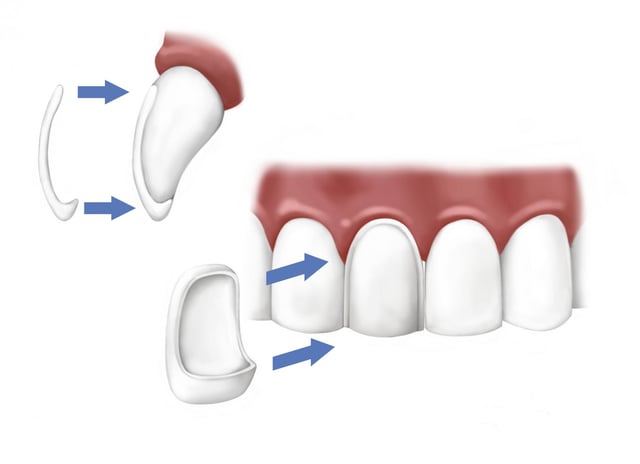 Benefits of Porcelain Veneers
While the most popular benefit of porcelain veneers is the appearance of a perfect smile, there are also many other benefits, including:
Stain resistance: Porcelain veneers are polished, which makes them much less likely to stain than natural teeth. While it is still highly recommended to continue regular brushing and flossing, especially after eating or drinking food or drinks that cause staining, porcelain veneers are relatively low maintenance compared to natural teeth.
Cost compared to other procedures: In some instances, porcelain veneers can substitute for orthodontic procedures such as braces when patients are looking to correct small gaps in their teeth. Porcelain veneers may also be a better option for patients who are looking to get dental crowns if the tooth is not diseased.
Practicality and functionality: Porcelain veneers do not only improve the appearance of teeth, they also aid in improved usability of teeth. Patients with porcelain veneers often notice a smoother chew than they had before, providing them with a better eating experience.
Durability: Although veneers are thin, they are incredibly strong and durable when bonded to healthy teeth.

Determining if Porcelain Veneers are Right For You
If you are unhappy with the appearance of your teeth, porcelain veneers may be a good option for you. Examples of imperfections that porcelain veneers can help correct include:
Teeth that are stained or discolored
Teeth that have been fractured, broken, or cracked
Teeth that do not appear uniform in size
Teeth with gaps
Teeth that are overlapping and/or crooked
If you are considering cosmetic dentistry to make over your smile, porcelain veneers are a great potential option.
For those in or around the Charlotte area, make an appointment at William Linger, DDS for a free cosmetic consultation to talk to our caring and professional staff and meet with our expert dentist, Dr. Linger, about your options.
For more information on porcelain veneers or any other dental inquiries, contact us.