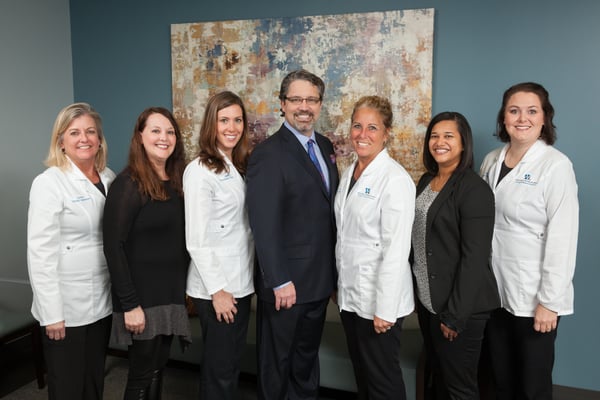 When we need a dentist in Charlotte NC, there are several things we need to consider when searching for a provider. A reputation for high-quality care is, of course, the primary requirement, but often we also need to make sure a dentist offers the services we're looking for.
Rare is the dentist's office that we can visit with any problem and feel confident they are trained and experienced in handling that issue.
The ability to fill that rare space, and combine it with top-notch care, is why Dr. William Linger and his staff run Charlotte's #1 dental office.
This is no mere sales pitch. Google not only has Dr. Linger rated as the #1 dentist in the Charlotte area, he has the exceptionally rare five-star average, with similar ratings on Facebook.
In a world used to only hearing comments from customers and clients who want to complain, a dental office that has inspired dozens of patients to post about their positive experiences is noteworthy, to say the least.
Dr. Linger has accomplished this by leading a staff capable of managing a huge array of dental concerns.
They provide basic dental care—cleanings and sealants—as well as normal cavity fillings, root canals, and, when necessary, periodontal gum treatment.
Patients requiring tooth replacements will find access to dental crowns, porcelain veneers, and a variety of implants. For the most serious cases, Dr. Linger's office uses the most advanced oral surgery tools and techniques available.
You might think, reasonably, that these are all things one should expect from a good dentist. However, Dr. Linger also offers cosmetic orthodontic services that would require an orthodontics-specific office for patients working with most other dentists.
From commonly known cosmetic tools such as Invisalign to teeth whitening to Six Month Smiles, Dr. Linger treats more than basic orthodontic issues; he offers enough options to allow almost any patient to find the right solution for them.
The strength of this approach is in more than simple convenience for the patient.
Certainly it's nice to know that no matter what you need, the dentist you know and trust will be able to provide it; those who have had a dentist recommend an orthodontist know that, no matter how much you trust your dentist's opinion, there is always a bit of nervousness in letting a new person work on your teeth.
But Dr. Linger's ability to provide so many services also allows for much better coordination between different types of care.
Does your child need a pair of fillings and new braces?
Do you need a root canal, with an additional desire to have your teeth whitened? Are you interested in having your teeth straightened, but only after your wisdom teeth are removed?
All of these combined concerns can be handled with maximum efficiency and the most intelligent care when the same people are helping you with all of them. There is no fear of communication breakdowns between offices, no disagreements in what the proper order of care should be, no untenable delays between procedures due to appointment availability differences.
By providing concierge dentistry, Dr. Linger is able to maintain a low-volume dental business outside the restrictions of insurance companies. This allows his staff to provide maximum attention to detail for each patient, rather than suffer any risk of becoming overwhelmed and failing to give even a single individual the care they deserve.
Appointments are easy to come by.
The amenities are first-class, emergency services are available 24/7, and—if all that were not enough—you can also enjoy the company of Sadie, the therapy dog.
If you live in the Charlotte area, let Dr. Linger's top-rated office help you with your dental concerns. Contact us for information, appointments, or with any questions you may have. Check out our complete guide on our practice and download it for free. Click on banner below.